Philosophy
Through personal experience, we have come to realize that the human mind has a potential that we do not normally see, and often, consciously suppress. Whether or not you believe in "god" or are religious or spiritual, it is easy to see that there is something that exists which has yet to be explained by science that makes us strive for personal evolution, and this force helped get us where we are today. The scientific law of cause and effect is prevalent. We are all evolving towards our higher selves and towards perfection of the whole, but it is just a matter of time and experience before we get there. These guided meditations are a tool to help you on your way. If you are looking for a 'how to meditate for beginners,' this is the place.
Technology
Many technologies that go into the meditation treks. From binaural beats to nature sounds to the neurolinguistic programming in the spoken dialogue, everything is intentional. There is a wealth of knowledge out there about each topic on the internet. Dissertations have been written on each subject independently, but our approach is to combine them all into meditation programs that each become their own works of art with a higher purpose.
Our Team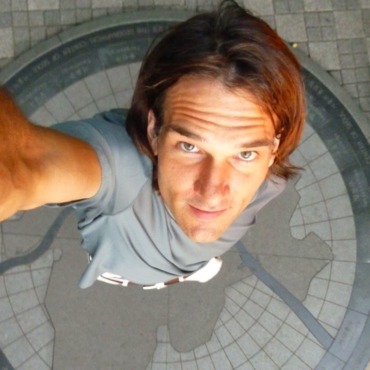 An active meditator for over 12 years and a software engineer for twice a long, Russell recognized early on in his journey that technology could not only facilitate, but possibly enhance one's journey to the inner worlds.
The project was started by Russell Eric Dobda (writer; musician; blogger; founder and former partner of Austin Silent Disco; software engineer, founder of Switchboard; B.S. from University of Pittsburgh in Information Science with Psychology/Chemistry related fields; Yoga Alliance 200-hr Registered Yoga Teacher; David Elliott Certified Breathwork Practitioner).
Russell started this project after having a spiritual awakening in 2009, followed by a guided meditation group session in Austin, Texas, in 2011, where he was inspired to quit his day job and change the way he looked at the world after having a vision during an "Ask Your Higher Self A Question" meditation. Soon, he discovered binaural beats, and learned how to apply this technology to computer apps with his software development background. Russell continues to meditate and evolve through these tools (and his own introspection), and he wants to use this project as a service to others who might benefit in the same ways he has. GMT has been featured at the 2013 international conference on New Interfaces for Musical Expression, as well as music festivals and events since ever since.
Contact Us